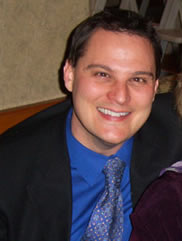 Brian is the president of The Center for Personal Growth, Inc. He is a licensed Advanced Alcohol and Drug Counselor (L.A.A.D.C.) and Life Coach. He has two masters' degrees in clinical psychology. He has worked in the social services field since 1990 in a variety of clinical roles and settings.†He works with adults, couples and families.†Areas in which he has extensive clinical experience and specialties include the following: anxiety and mood disorders, domestic violence, drug and alcohol abuse, developmental disabilities, and L.G.B.T.Q. issues.
It is Brianís belief that we all share a common goal of being happy and pursuing happiness. From time to time, things may happen that prevents us from achieving that happiness.†Some of these obstacles may include a divorce, loss of a job, loss of a loved one, or relationship difficulties.†These obstacles can cause feelings of being overwhelmed, out of control, or afraid. Sometimes we can overcome these obstacles on our own, but other times we may need a little help to restore peace, balance, and harmony to our lives.†Even realizing and admitting to oneself that we can not overcome these obstacles on our own and that we may need help can be a difficult process.†It is Brianís belief that life coaching can provide the venue for support to help clients overcome and/or minimize these obstacles causing disruption in their lives.†It is his belief that through life coaching, clients can achieve their goals and live healthier, happier, and more productive lives.
Brianís approach is brief, solution focused life coaching which he believes is the most effective in getting results for his clients. Although he is well grounded in various approaches, he considers the relationship and trust developed between a life coach and client to be the most important factor in reaching goals.†He knows that if you, as a client, do not feel cared for or listened to, the most skillful intervention will be for naught.†He strives to create an environment where clients can feel comfortable and safe in discussing what is preventing them from achieving their goals in life.†In his many years in this field, he has felt honored to assist clientís with their courageous and sometimes difficult journeys back to health.† He looks forward to working with and helping you.